Dog Treats Low Calorie High Protein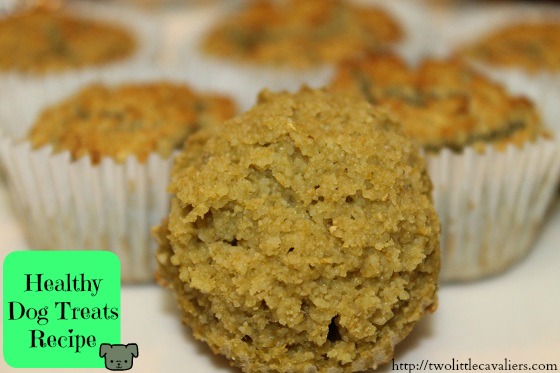 Author:
Two Little Cavaliers
2 jars of baby food. In any combination of Green Beans and or Sweet Peas. See notes below to determine which is right for your dog.
1 cup Flour (this can be wheat, whole wheat, corn meal, whatever you have in the kitchen)
Measure one full cup of flour into mixing bowl. Add 2 jars of baby food * see notes below. Mix well.
Let stand for 10 minutes.
At the end of the 10 minutes preheat oven to 350 and allow mixture to continue to sit and the flour absorb the vegetables.
Spoon mixture into mini muffin tins, into drop cookies on a baking sheet, or form a mini cake which you can later cut into a fun shaped dog treat. Put into oven and let cook for 30 minutes. Take out of oven and let cool.
For Dogs that can stand to loose a few pounds use 2 jars of green beans / string beans. They are low in calorie and full of vitamins and minerals. This version will be great for making mini muffins as the green beans are more liquid. Cut down the oven temperature to 300 degrees and cook for about 45 minutes to help get rid of the excess liquid during cooking. You could also strain out some of the water by placing a paper towel in the jar to absorb some of the liquid. For dogs that are looking to maintain their weight you can go with one of two options. One jar of peas and one jar of green beans / string beans. This is the version that is in the pictures. It does well as an individual sized cake or mini muffins. You could also do drop cookies leaving space between the cookies on your baking sheet. For dogs that need to put on weight, are getting over an upset stomach, or surgery you can use two jars of peas. Peas are a great source of protein but are easy on the stomach. Dogs love the taste of peas.
Recipe by
Two Little Cavaliers
at https://twolittlecavaliers.com/2013/02/green-dog-treats-recipe-low-calorie-high-protein.html