Vegeterian Recipes Easy Side Dishes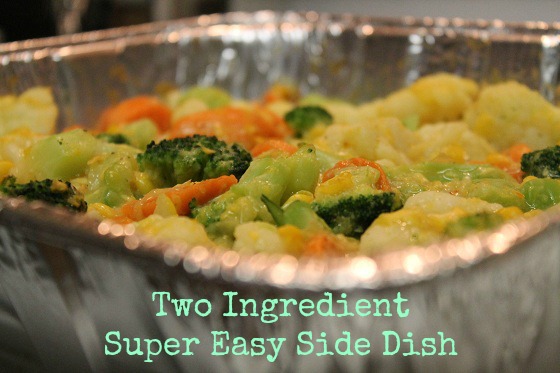 Author:
Two Little Cavaliers
2 bags Frozen California Vegetables (cauliflower, broccoli, and carrots)
2 cans cream corn
Optional:
Salt
Pepper
Garlic Powder
Preheat Oven to 350.
Open the cans of cream corn and pour into the same container you will be cooking this Vegetarian Casserole in. If you are going to season this side dish now is the time. I prefer to season the cream corn before adding the vegetables because I think it combines more easily. You can season with your favorite seasoning or just leave it plain - for me it is too sweet without adding a little spice but the original recipe does not call for any seasoning.
Open the bags of partially frozen vegetables. You want it to thaw enough that the vegetables are not a giant ice ball but you do not have to wait until they are thawed completely. Pour the two bags of vegetables in and stir to coat them with the cream corn.
Cover the cooking container and place in the oven for 45 minutes.
Open carefully and let cook another 10 minutes uncovered.
(If you are not 100% sure when dinner will begin you can allow to cook longer as long as the oven stays at 350. I personally like it to cook longer and while I have tasted it at this point it usually goes back into the oven.
This recipe has been inspired by Susie Fishbein's Kosher by Design Short on Time and has become a staple dish I bring with me to dinners or to events where you are supposed to bring the ingredients and cook the dish there.
Recipe by
Two Little Cavaliers
at https://twolittlecavaliers.com/2013/01/vegetarian-recipes-easy-side-dishes.html